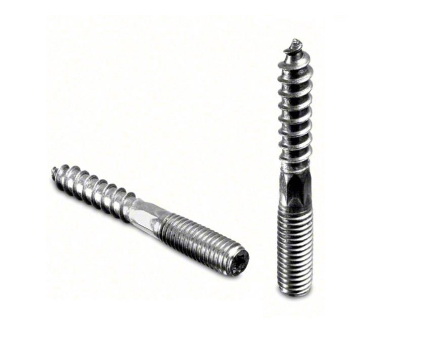 Bolts are the most important part of the hardware family. These are basically the male hardware parts that are combined with the bolt fasteners to join two distinct or physically separable objects. These are widely used in various industries to fix physically separable objects.
These are widely used in various industries like manufacturing, construction, production, automobile, machinery & various other industries. These are used along with their female counterparts to fix the physically distinct things. In order to fix the things, the male thread of the bolts gets inserted inside the hole of the bolt so that physically distinct objects can get fixed. To hold the things, they are provided with the helical or spherical tracks on their outer surface. These tracks offer friction to external forces like vibrations, movement, or any other force.
These are widely developed in variety of sizes & specifications. Some of the most prevalent types are hex, heavy, carriage, U type, foundation, wheel, heavy, machinery & several others. These types are prescribed by the industry as per guidelines. Apart from this, customized sizes have also gained wide popularity. This is a category which is specially made as per the requirement of the application. In this, the sizes as well as diameters are made as per the specification of the application. These are especially designed with advance machinery so that proper qualities can easily be offered in these.
Stainless steel bolts are widely demanded these are days. These are widely used owing to the fact that these offer high tensile strength. With this, these offer various attributes like durability, reliability, accuracy & precision. One thing is also kept by the manufacturers in mind that these have to get exposed in the atmosphere for various purposes. We all know that when metals come in the contact with the moisture, the process of rusting starts. Corrosion or rust degrades the metal & reduces it strength making it weak. So in order to avoid the process of rusting, chemical coating is provided over the surface of fasteners. The PVC or zinc coating is widely employed in order to offer resistance to rust or corrosion.
There are several advantages of using stainless steel bolts. The first & foremost is the durability offered by this. With high durability, they offer reliable operation over a very long life. Second attribute that is offered by this is the strength. Though strength basically depends upon the construction type & shape but steel has very high tensile strength that can easily counter adverse working conditions. The third feature offered by this type is the ability to withstand rust & corrosion. Blended carbon along with PVC coating helps these to withstand adverse conditions.
You can choose the design & shape as per your requirement at various stores. But now the scenario has changed. There are various sellers that are offering their products online. Purchasing online solves various purposes. You can get the desired product at reasonable prices with wide array of varieties.
---
Post time: Sep-02-2020